Giglio Island: beaches, paths, where to sleep and how to get there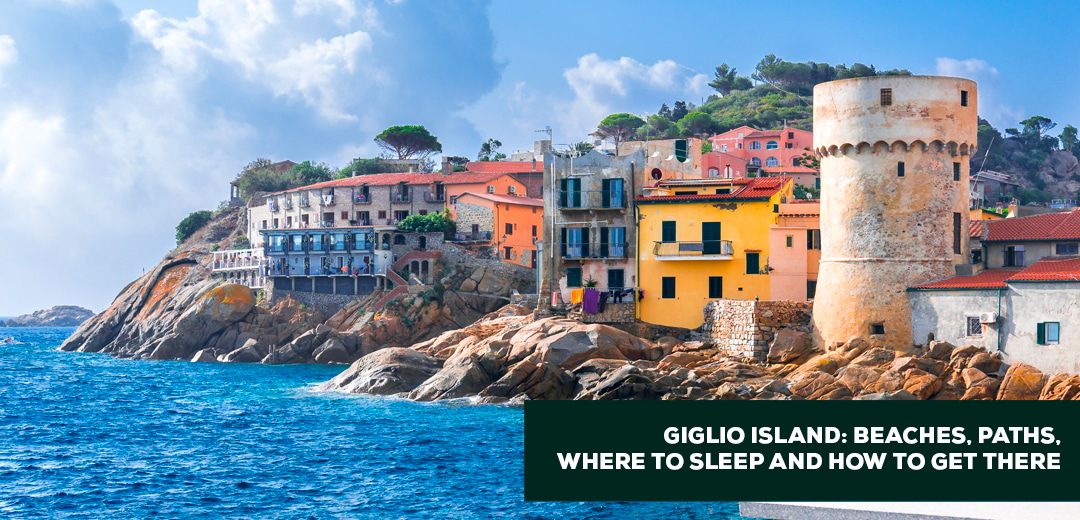 Giglio Island is located on the Argentario coast in the province of Grosseto. This island offers sea lovers a tourist experience of relaxation and marine exploration.
The island, which is part of the Tuscan Archipelago, is the ideal place for short cruises on which you can discover numerous beaches and coves or take walks along the many paths that lead to serene and secluded inland areas. Accommodation possibilities are in Giglio Porto, Giglio Castello and Giglio Campese. The numerous beaches, such as those at Campese and Saraceno, offer a variety of experiences, from lively tourist centres to quieter inland locations.
Giglio Island
The enchanting Isola del Giglio, located off the shores of Argentario, stands out as a major tourist destination within the province of Grosseto and the Region of Tuscany.
This beautiful island, one of the most important in the Tuscan Archipelago, is located off the coast of Argentario, in the province of Grosseto. Perfect for a relaxing stay, thanks to its crystal-clear sea, it offers all the necessary amenities for a totally relaxing experience, and has a strong tourist appeal. Giglio is also an ideal place for short cruises, with multiple opportunities to depart from Porto Santo Stefano to explore the most significant points of the island and its most fascinating beaches, to experience an unforgettable day. The philosophy on the island of Giglio is to dedicate oneself to marine relaxation, although it can get quite crowded in summer. Nightlife is rather discreet and at dusk, tourists flock to the streets of Giglio Porto, Giglio Castello and Giglio Campese, the three inhabited centres. The island is also suitable for walking and hiking enthusiasts, who can explore Giglio Island via numerous paths, discovering quieter and more isolated inland areas. Its extension is 21 square kilometres, making Giglio the second largest island in the Tuscan Archipelago. We invite you to walk the whole island to discover its beautiful beaches and wild hinterland, and you will be sure to return home full of satisfaction.
Giglio's most beautiful beaches
 
On Giglio Island, in principle, the sea is wonderful everywhere. There are numerous beaches, some sandy, others pebbly or rocky: there are four main ones, but there are many other small coves where you can dive into the blue waters of the Tyrrhenian Sea. Select your favourite beach and enjoy your holiday to the fullest.
 
Campese Beach
 
The Spiaggia del Campese is the urban beach of Giglio Campese. It has a slightly semicircular shape and is over 500 metres long; at its far right end stands the emblem of the island of Giglio, the Campese Tower. It is the largest beach on the island and one of the most touristically equipped. It is a place full of life, at least during the high season.
Here, dark-gold sand awaits you, a transparent sea with a seabed that immediately descends to a depth of one metre, and then gently decreases. All the main services can be found on the beach: bathing establishments for sunbed and umbrella hire, shops selling beach products, bars and restaurants, as well as various activities such as diving centres, boat hire and water taxi services. Thanks to its geographical orientation, you can admire fabulous sunsets in Giglio Campese. Besides all these advantages, there is another one: the Campese beach is very easy to reach! Just follow the main road to Giglio Campese, and you're there. There is also a public bus service from Giglio Porto.
Cannelle Beach
 
Spiaggia delle Cannelle is located south of Giglio Porto and is a real gem. It is a thin strip of very fine white sand with a spectacularly coloured sea. Its location close to Giglio Porto makes it very popular, both with tourists staying in the resort and with those coming to Giglio for a day trip, as it can be easily reached on foot in about 20-30 minutes on a beautiful scenic road, or by taxi, scooter or rented bike. It is also possible to go to Spiaggia delle Cannelle by water taxi, which can be found along the waterfront at Giglio Porto and leave every 20-30 minutes several times a day. Note that there are no bus connections. Once on site, you will have the opportunity to rent sunbeds and umbrellas at the Cannelle Wonderful Beach bathing establishment and refresh yourself at the on-site bar and restaurant.
Caldane Beach
 
To find the Spiaggia delle Caldane, take path number 23 south from the nearby Spiaggia delle Cannelle. Following path number 23, which joins the two beaches, the walking distance is about 20 minutes. It is a beautiful beach and the smallest on Giglio. If you do not want to get there on foot, the alternative is by boat: for this reason, it is not overcrowded. The Caldane beach offers a part of free beach and a part equipped by a bathing establishment. There is not much space available, so in high season we advise you to get there as early as possible.
Arenella Beach
 
Moving north from Giglio Porto is Arenella Beach, the third largest beach on the island, about 100 metres long. There you will find a dreamlike sea with mixed sand and rocky seabed; the rock called 'La tartaruga' (The Turtle) because of its shape is unusual. You get to Arenella by car from Giglio Porto, the road is comfortable and asphalted even if parking spaces are scarce, especially in high season. In this period, it is often necessary to leave the car earlier, near the Arenella hotel, and walk to the beach. Once there, you can rent sunbeds or umbrellas at the bathing establishment on site, or lay out your towel in one of the free beach areas, which are rather limited: it is better to arrive early in the morning!
Scalettino Beach
 
Spiaggia dello Scalettino is located in Giglio Porto, practically in the town, at the end of the seafront promenade to the north. Despite its proximity to the town and the port, it has clear, transparent water that is very clean. It is a sandy beach and at the ends are smooth granite rocks on which one can lie in the sun. Thanks to the influence of the tide and the presence of rocks right in front, one area turns into a small natural pool, protected from the open sea, suitable for bathing even small children.
Saraceno Beach
 
Walking along the road from Giglio Porto to the Cannelle beach, towards the southern end of the town, you will find the tiny Spiaggia del Saraceno. It is little more than ten metres long, with a very narrow tongue of sand, no more than two metres long. It is overlooked by typical houses and a few flats, in a truly original and decidedly charming setting.
The paths of Giglio Island
 
Although Giglio Island is a very popular destination among tourists, it hides an unspoilt and wild hinterland. Not many visitors venture into the heart of the island, which is a pity, since the vast network of marked trails offers the possibility of experiencing unique emotions.
You can walk overhanging the sea, with breathtaking panoramic views of Argentario and the other islands of the Tuscan Archipelago; some paths also lead to otherwise inaccessible beaches. Many of Giglio's paths were originally mule tracks, the only roads on the island that the inhabitants used to get from home to the fields. Now, the paths are no longer used for this purpose, but are frequented almost exclusively by tourists. It is important to remember that many paths are littered with obstacles, so it is necessary to wear comfortable shoes. Also, not all are suitable for mountain biking. Whichever trail you choose to take, take plenty of water with you and keep in mind that the cellular network may not work in some inland areas.
If you plan to use a taxi for part of the journey, plan your return in advance. You can download the map of Giglio Island trails online or request it free of charge from the Pro Loco, located at Via Provinciale 9 in Giglio Porto.
Where to sleep on Giglio Island
 
There are three villages on the island of Giglio: Giglio Porto, Giglio Castello and Giglio Campese. Choosing one over the other will significantly influence your holiday.
Choose Giglio Porto, the largest, if you prefer to have the ferries close at hand, as they sail and dock right here. If you stay in a hotel or flat in Giglio Porto, you can easily walk from the ferry to your accommodation without having to wait for a taxi, which are quite rare, or public transport. Walking around Giglio Porto is very pleasant, with a very characteristic promenade, full of shops, restaurants and bars. Be careful, however, as during ferry arrival and departure times, the area becomes very crowded and there may be confusion.
Giglio Castello, on the other hand, is located on a hill. It has a very pretty historic centre, but as you can imagine, it is far from the sea. This can be a disadvantage for many, as you have to use your car to reach the beach, but for others it can be a unique advantage, with fewer crowds and a more elegant atmosphere.
The third place to stay on the island of Giglio is Campese. Located on the opposite side of the island from Giglio Porto, it has a beautiful sandy beach, ideal for families with children who want to spend wonderful days by the sea.
The three resorts on the island of Giglio offer all the necessary tourist services, so there is no shortage of hotels, flats, B&Bs and all the amenities needed for a carefree holiday.
When to go to Giglio Island
 
Giglio Island is a predominantly seaside destination, so it is perfect to visit during the summer. August is the peak month of the season, which brings with it some disadvantages: hotels and flats are more expensive, there is less space on the beach and there are people everywhere at all hours. Of course, August is the peak summer holiday month for Italians, but if possible, choose to visit Giglio in June or July, when the days are longer, the beaches less crowded and the prices still reasonable. If possible, enjoy the island in May or September, months when you can spend relaxing days lying on semi-deserted beaches and walk along the many paths without worrying about excessive temperatures; however, some shops may already be closed during these months.
Mappa Isola del Giglio
How to get to Giglio Island
 
Giglio Island can be reached by ferry from Porto Santo Stefano, the most popular resort on Monte Argentario, in the province of Grosseto. Argentario lies just opposite the east coast of the island. From Porto Santo Stefano, ferries leave daily, several times a day, operated by two shipping companies: Toremar and Maregiglio. The crossing takes just over an hour, and tickets can be purchased locally at the offices of the shipping companies or online at their websites.
We recommend buying your ticket online especially on high season days to ensure your departure, although in summer there are up to 12 departures per day. During the winter, trips are reduced to 4 per day. You can take your car or motorbike with you on the ferry (in this case, it is essential to book in advance!), or alternatively, you can park in one of the long-stay car parks located in Porto Santo Stefano, near the port. Finally, remember that a disembarkation tax of EUR 1.50 is added to the ticket price.
To get to Porto Santo Stefano by car, coming either from the north (Pisa, Florence) or the south (Rome), follow the signs leading there, where the ferry is available.
An alternative is to use the train: the Orbetello - Monte Argentario stop on the Tyrrhenian coastline connects Pisa to Rome. From there, a bus or taxi can be used to reach the embarkation point. Travellers can also opt for a taxi or NCC from Orbetello Monte Argentario station to Porto S. Stefano.
Nearby airports include those of Rome (Fiumicino or Ciampino) or Pisa, both approximately 150 km from Porto Santo Stefano. From these airports, it is possible to take a train to Orbetello or use a taxi or NCC service.
Where Giglio Island is located
 
The island garrison of Giglio, located in the territory of Grosseto, lies not far from the Argentario promontory in a straight line. It is positioned east of Montecristo, and north-west of the tiny island of Giannutri. The place, imbued with enchantment, is positioned as ideal for a break of serenity, to enjoy the sun and to immerse oneself in a virgin natural environment.