Val d'Orcia: natural landscapes, historic villages and gastronomy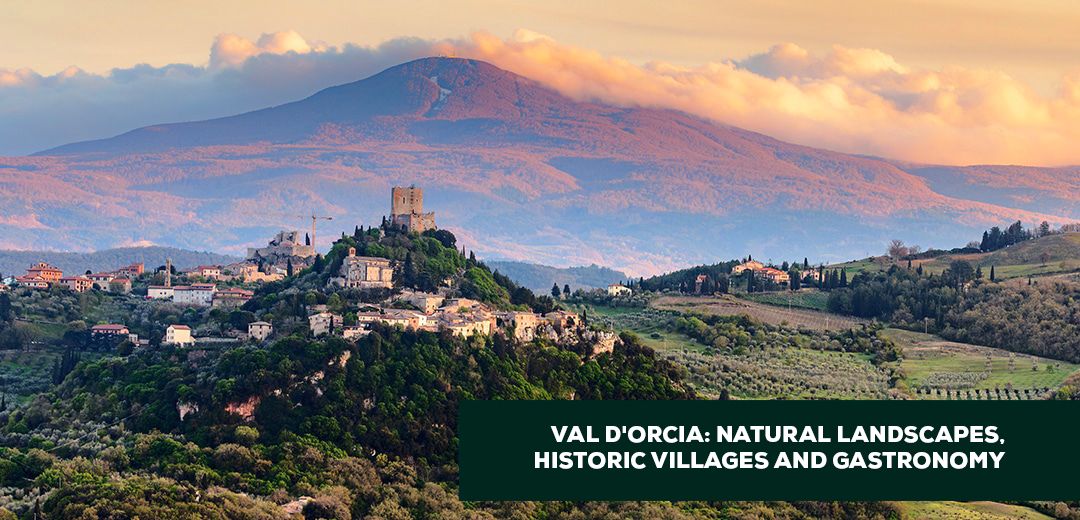 The Val D'Orcia, located in southern Tuscany, is a vast and spectacular territory stretching across the provinces of Siena and Grosseto. Dotted with medieval castles, rolling hills, enchanting vineyards and magnificent olive groves, it is now a protected park and UNESCO World Heritage Site. Nature reigns supreme here, but the magnificent towns of Pienza, Castiglion D'Orcia, Radicofani, Abbazia di Sant'Antimo and Montepulciano are also worth visiting. The region has produced fine wines such as Brunello di Montalcino and Rosso Orcia. The landscapes, which inspired Renaissance artists, are dotted with villages and historical monuments. The area also offers opportunities to relax in spas and enjoy high-quality local products.
Val d'Orcia: An Enchanting Medieval and Natural Landscape in the Heart of Tuscany
Medieval-era castles, rolling hills, millenary villages, splendid agritourisms, solitary farms, cypress-lined roads, enchanting vineyards and magnificent olive groves, wheat fields as golden as gold: these are just some of the elements that make up the harmonious and fascinating landscapes of the Val d'Orcia. Bathed by the river Orcia, which gives its name to this valley, it stretches across the provinces of Siena and Grosseto, in southern Tuscany. The entire area is now a protected park, and has been a UNESCO World Heritage Site since 2004. Nature in Val D'Orcia dominates, immaculate and splendid, changing colours through the different seasons.
Val d'Orcia: Journey through Renaissance Landscapes, Historic Villages and Enogastronomic Delights

There are very few places that can strike the traveller so intensely. The Val D'Orcia is the fertile soil that has given birth to highly prized and desirable Italian wines: Brunello di Montalcino, Rosso Orcia and other distinguished oenological beverages with the DOCG seal.
 
The breathtaking scenery of the Val D'Orcia, which stimulated and inspired numerous Renaissance creatives, is dotted with tiny villages, fortresses, monasteries and hamlets, each with its own amazing, incredible tale. The rhythm of time here seems to stop, to halt. You will have the opportunity to contemplate and investigate, to explore places such as Pienza, a real treasure known as the 'Ideal City': a Renaissance artefact desired by Pius II, the supreme humanist pontiff, where the imposing Palazzo Piccolomini also awaits a visit.
 
In addition, there is Castiglion D'Orcia with its bulwark, Abbadia S. Salvatore with its ancient Benedictine monastery, Radicofani, elevated on a hill with an imposing observation tower, and Montalcino, dominated by its 14th-century stronghold, from which a unique horizon can be observed. Finally, you can admire the magnetic Abbey of Sant'Antimo, one of the finest examples of medieval monastic art, where Gregorian melodies echo during the Eucharistic celebration. When bathed in sunlight, the travertine façade shimmers with golden reflections.
Continuing eastwards from Pienza you come to the Renaissance town of Montepulciano: a visit not to be missed (even if it is not exactly Val D'Orcia)!
After a day dedicated to museums, ancient fortresses and abbeys, you can relax in one of the many spas in the area, such as those in Bagno Vignoni or Bagni di San Filippo.
 
The entire region is teeming with excellent indigenous products such as the pecorino cheese of Pienza, the vigorous olive oil, the luscious wine, honouring an ancient and well-established practice, saffron, mushrooms, truffles, wild meats and other delicacies scattered along the Strada del Vino e Sapori.
A holiday in the Val D'Orcia is a unique journey of sweet flavours and landscapes you will not forget. The most beautiful images of Tuscany come from this corner of paradise!
Here you can see a video to get a general idea of the whole area and the treasures of the Val D'Orcia, made by the Fondazione Musei Senesi.
Map of the Val d'Orcia
Where Val D'Orcia is located
Val D'Orcia is a vast and splendid extension of land in southern Tuscany, near the demarcation line with Umbria and at the foot of Mount Amiata, stretching along the rural area of Siena. It derives its appellation from the Orcia river that runs through it and is a protected area where the predominant and sovereign element is an astonishing nature.